We are making plans for next year 2013.
We are looking for alternate funding methods.
If you have any input you can stop by Station 41 or e-mail Neal Pinson, neal@groomcreek.org
Important:  The dumpster is for UNBAGGED pine needles and branches less than 1/4″ in diameter.  Items larger than this, as well as trash bags, can damage equipment used in the mulching process. 
Spruce Mountain residents
Are you interested in having a dumpster located on Spruce Mountain?  We are considering placement here, and we are trying to determine the demand. If you are a Spruce Mountain resident, please let us know how you feel about this possibility. Click here to contact us.
Help us continue this grant work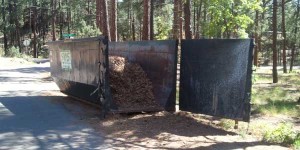 If you have done work this year to create or maintain defensible space by raking pine needles or removing trees, please complete a simple online Homeowner Activity Sheet form. Your efforts provide matching funds that are invaluable to keeping the overall project costs low and continuing the project into the future. Click here for that form.
Please call Neal Pinson at 928-778-6519 if you have any questions about this program.