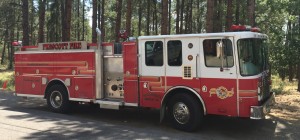 The Groom Creek Fire District is the proud recipient of a structure fire engine that was surplus property from the City of Prescott Fire Department. The 1999 Central States/Rosenbauer Type 1 pumper will replace a 1979 Ford F-600 which was non-compliant with today's standards.
This engine is far more capable for structure fires and other responses than its' predecessor. The apparatus was donated to the District with the renewal of an agreement for apparatus maintenance.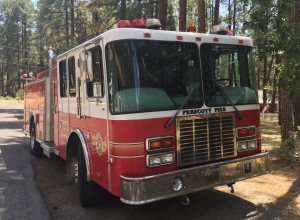 We have been trying for a few years to obtain grant funding for this type of apparatus and was glad to have the support of the Prescott Fire Department and City of Prescott in the transfer of this engine to our District.
We are proud to maintain the partnerships we enjoy with the City of Prescott and Central Yavapai Fire District which benefit the Groom Creek area and our Fire District.