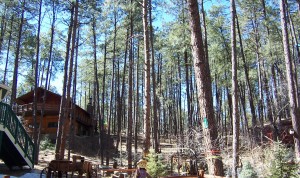 For the last 100 years people have been putting fires out.  Fire is nature'sway of cleaning house through burning accumulated dead material.  When fires were allowed to naturally burn, the density of Ponderosa Pine trees in our area was 40-60 trees per acre.   Since we have been without fire, we now have close to 200-300 trees per acre in some areas.
Overstory thinning is the process of using equipment and labor to restore the effects of fires in our ecosystem.  The primary type of work is restoring the number of Ponderosas back to 40-60  per acre.
There are several negative consequences to having an over populated forest:
More trees competing for the same amount of  water, sunlight, and soil nutrients.
Increased chance of devastating mega-fires.
Lower diversity in plant life on the forest floor.  Sunlight cannot penetrate the tree canopy and prevents grass and other forbs from growing.
Lower diversity of wildlife due to the lack of grasses and other feed.
Trees are weaker and more susceptible to storm damage and insect outbreaks.
How It Got Started
There were 2 main goals of this project.
Restore forest health.
 Provide increased wildland fire protection to our community.
Arizona Public Service (APS) completed 100% of the tree removal on the original 16 parcels of our project.  They completed this initial project completely free of charge and we thank them for their generosity.
The prescription is based on research from the Ecological Restoration Institute at Northern Arizona University, this will return the forest to the healthy state as it was prior to the settlement of the area.
The district has performed the demo area project to determine the cost and logistics associated with this type of project on a smaller scale in order to pursue funding for extending the project across the private land throughout the district. There is plenty of data available to estimate the costs of thinning on the open forest lands, but no data exists for this type of project within the houses and infrastructure of a community. It costs about $400/acre in the open forest areas and we are estimating the costs at $2000-$8000  in the developed area. Due to this cost estimate we will be needing grant funding of over $1 million to complete the thinning of the entire area.
The Future Of Overstory Thinning
We hope to treat every piece of private land within our district.  We know that this goal rests largely on the participation of our residents.
Funding is the major limiting factor with this large of a project.  We have received 3 separate grants that have helped, but all of these grant funds have been exhausted completing the properties that have been done already.  We will continue diligence in applying for more funding to move forward with this project.