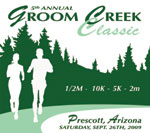 The Groom Creek Community Classic is an annual running event consisting of one of Arizona's most challenging 1/2 Marathon and 10k courses. Located in the beautiful pines of Groom Creek, AZ, we strive to bring one of the most family friendly events with a 5k run and 2 mile fun walk as well. Sponsored by the Groom Creek Firefighter's Association, our event proceeds benefit the Association and our charitable causes.
This year's Event is on Satuday September 29, 2012
If you would like a hard copy of the registration you can print one here.
See the run area in Google Earth!
[xmlgm {http://www.groomcreek.org/half_marathon_course.kmz} maptype=G_SATELLITE_3D_MAP;maptypecontrol=hide]