Groom Creek Fire District Remote Rescue Vehicle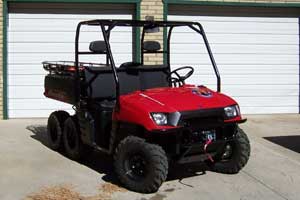 The Groom Creek Fire District has been awarded a 2008 Polaris Ranger 6×6 from the US Tobacco Company's "Operation Ranger" Program. The District wrote a grant application, and subsidized that with an interactive CD-Rom detailing our need to add remote rescue capability.
The Ranger will be used by the District for remote rescue operations. The Ranger will assist us in accessing emergencies that occur in the surrounding forest areas on and off trails. Each year, we respond to a handful of emergencies involving ATVs, horseback riders and hikers. In the past, we would hike all of our gear to the scene, and then carry the patient to a waiting ambulance. This could take hours – which is obviously not beneficial to a patient. We also respond to many wildland fires in the area that can be accessed quickly and easily by the Ranger
Now, we will have fast, mobile access to the more remote locations. The Ranger has been outfitted with a Medlite EMS Skid. The Medlite will allow us to safely carry an immobilized patient and an attending EMT to a waiting ambulance for hospital transport. The Medlite features a cargo box that we use to carry various types of EMS gear.
The US Smokeless Tobacco Company's Operation Ranger program exists both to recognize the service of our nation's emergency responders and to provide a versatile, practical vehicle that will enhance emergency response capability at the community level. The USSTC gratefully acknowledges the assistance of Polaris Industries, the National Volunteer Fire Council and the many vehicle recipient agencies that have helped them shape this signature program since its inception as a pilot program in late 2002.
We want to offer our sincere gratitude to the US Smokeless Tobacco Company for this very generous contribution to our community.
The Medlite EMS Skid can carry a patient, an EMT and EMS gear. The patient and the EMT are both very secure while riding on rough road or trail.