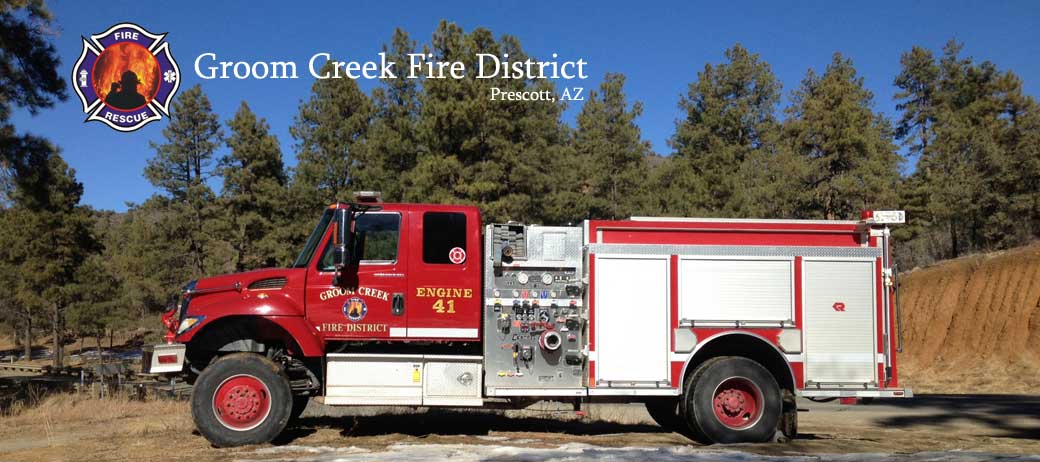 Groom Creek Fire District Apparatus
Engine 41

Engine 41 is the newest addition to our department. Engine 41 is our primary response vehicle for all EMS, fire,and other district calls. The truck is 4×4 built on an International chassis, carries 750 gallons of water, and boasts a compressed air foam system (CAFS) capable pump. CAFS allows better and more effective use of water. CAFS has been proven to be five times more effective than just plain water when fighting fire.

Engine 411

Engine 411 is our second unit for all structure fire, EMS and wildland fire calls. Engine 411 is equipped with a compressed air foam system rated for 90 gallons per minute with a 45 cfm air compressor.

This unit is a Type 6 wildland engine and is our off-district engine that responds to mutual aid requests by the U.S. Forest Service and the AZ State Land Department.

Engine 42

Engine 42 is a Ford F-600. It is equipped with a 350 gallon per minute pump and 600 gallon tank. This apparatus is 4-wheel drive and capable of responding anywhere in our district at any time of year. It is ready for both structure fire and wildland response. It is currently housed at Station 42 in Pinehurst.

Engine 43

Engine 43 is equipped for Structure Fire and Wildland Fire Response. It is a Ford F-600 4-wheel drive. It is currently assigned as our Reserve Engine and is stationed on Spruce Mountain..

Water Tender 41

Since we are a community that does not have a Fire Hydrant Water System, all of the water we need to suppress fires must be carried into our area. This water tender carries 2,000 gallons and has a 350 gallon per minute pump and carries a fold-a-tank for dump and reload operations. It is also equipped with a deck gun for large volume water flows.



Water Tender 42

This apparatus is a 1997 GMC 7500 and is dedicated to the memory of Paul Navarro. This apparatus is listed in the automatic aid agreement to help in the Prescott and Central Yavapai areas if extra water tender support is requested

Utility 41

This unit has been converted into a Reserve Rescue Apparatus and Utility Support Apparatus. It carries our air system to refill SCBA bottles and all of the accessory equipment necessary on a structure fire.

Engine 431

Engine 431 is our secondary Type 6 wildland engine. It is currently stationed on Spruce Mountain along with Engine 43.

Structure Protection Trailer

Our structure protection carries portable sprinkler systems which are designed to provide for structure protection for up to 10 homes at the same time. This system will be used in the event of a catastrophic wildland fire, or during a structure fire when protecting nearby structures is a hazard to personnel.

Remote Rescue Ranger

Our 2008 Polaris Ranger is outfitted with an EMS skid that will allow us to respond to remote emergencies. The District was awarded this Ranger through the US Smokless Tobacco Company's Operation Ranger program.